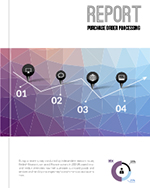 Our Chief Technology Officer, Stuart Evans, discusses the importance of Purchase Order Processing in SMEs as new research conducted by independent research house, Redshift Research reveals that almost a quarter of UK finance professionals (24%) say their current purchasing processes need fixing as a matter of priority.
The survey asked Finance workers in 200 UK-based small and medium enterprises how their businesses purchased goods and services and the daily challenges they face with the tools available to them. The research also found that 34% of respondents identified their processes were difficult to use or have to work around it to get things done.
The study identifies symptoms that suggest a fragmented approach to purchase order processing, inefficiencies and a lack of employee engagement, consequently resulting in a lack of control from finance workers. Fragmentation and inefficiency were identified at both the requisitioning and the ordering stage of the process. For example, at the ordering stage, 68% identified that they were preparing purchase orders either manually or using MS office based products. This suggests purchase requisition data is being re-entered, introducing a risk of input errors and lack of control over the release of purchase orders.
Purchasing orders are a fundamental part of the internal control system of any company enabling budgetary control over commitments, visibility over future cash flow and clear communication to suppliers of what is required at what price. Automated systems and the right document management tools can make finance more visible across the company, provide the required structure and permissions for budget holders and often, lowers the finance department's workload. With the right tools, Finance Directors can improve the purchasing order processing cycle within their organisation – from selecting suppliers down to generating the purchase order and automating the approval process.